(News) Small Check-Dams can change lives in water-scarce Bundelkhand
---
Small Check-Dams can change lives in water-scarce Bundelkhand
---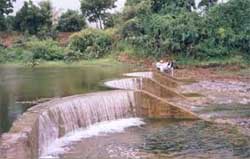 A simple innovation like a check-dam has dramatically turned around the lives of the 500-odd people in 90 poor Adivasi houselholds in this village located on a water-scarce plateau in Madhya Pradesh, where the nearest water body was once over four kilometres away.
Located in the Chhatarpur district of Madhya Pradesh's Bundelkhand region, Patna village (curiously sharing its name with BiharÂ's capital) also recorded one of the lowest per-capita incomes in the country for the very same reason: lack of water. Crops invariably failed in an area where livelihoods were entirely dependent on agriculture.
All that changed in 2013, when an initiative by NGO Haritika, with the support of Anandana, Coca-Cola India Foundation, to create a check-dam and generate solar power led to increased water levels and higher per-capita income for the villagers. The village now has a water-distribution system through a solar-powered bore well, 60 toilets for the households, 15 solar street lights and a check-dam that can hold over 12,446,400 litres of water.
Until two years ago, 30-year-old Sheel Rani, a resident of the village, had to spend over five hours each day to fetch a minimum of 25 litres of water required for her household's use.
"I would have to make more than 4-5 trips to the lake, which remains dried up for over four months a year, to serve my household needs. Most of my day would go into fetching water. Now, household water pumps are a blessing for our village," Sheel Rani told IANS during this writer's visit to the village.
For farmer Raggho Pal, 39, his annual income, which used to be less than Rs.5,000 ($75), has now doubled as the check-dam can store water for growing crops.
"The check-dam has brought a lot of change in our lives. The mango and guava plantations that I had never survived the heat and lack of water. Now I manage to make Rs.200 a week by selling fruit that is grown entirely in an organic way," Raggho Pal said.
"Through projects like these, aimed at water-scarce regions that exist in 40 other areas of the country in states like Karnataka, Andhra Pradesh and Rajasthan, among others, about 13 billion litres of water is being replenished in the country," Anandana chief executive officer Yogesh Chandra told IANS.
Bundelkhand is one of the country's most water-scarce regions where many people migrate from their villages to the banks of the rivers to survive during summer, Chandra said.
"Our aim is to serve the communities that are not within the commercial coverage of Coca-Cola. We function in the areas where Coca-Cola does not draw water for its commercial usage. If we are drawing about five billion litres of water from a place, we are replenishing about 13 billion litres in other drought-prone regions," Chandra added.
Avni Mohan Singh, the founder and executive director of NGO Haritika, which has been implementing the water replenishment project in Patna village, is satisfied with the results.