Smart City project in Jhansi, will cost Rs 2,040 crore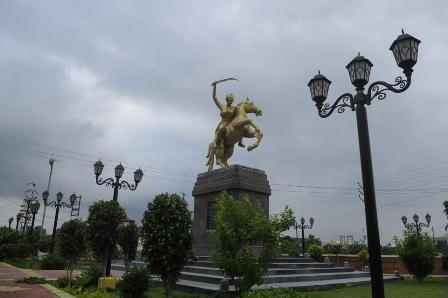 Making Jhansi a smart city will be an uphill task for the authorities as unlike other cities of UP, it even lacks basic amenities.
Famous for warrior princes Rani Laxmi Bai and hockey legend Dhyan Chand, the historic city of Jhansi is set for a makeover as it has made it to the coveted list of smart cities.
Missing out twice in the smart city race, it was third time lucky for Jhansi when it figured in the third list of cities released by the union ministry of urban development on June 23.
Often referred to as the 'heart of Bundelkhand', Jhansi was previously known as Balwant Nagar. It is relatively a new municipal corporation which came into existence in 2002.
An amount of Rs 2,040 crore will be spent to roll out the Smart City project in Jhansi in the next five years. Out of this, the Centre's share will be Rs 465 crore and Uttar Pradesh government will contribute Rs 500 crore. The remaining amount will be contributed by the Jhansi Municipal Corporation and generated through PPP model.
However, making Jhansi a smart city will be an uphill task for the authorities as unlike other cities of UP, it even lacks basic amenities.
An area-based development plan and pan-city initiative modules will be chalked out to make Jhansi smart. Power supply, robust drainage system and sewage treatment are a must to make any city smart and Jhansi lacks all the three prerequisites. Under the project, Rs 1,407 crore will be spent on improving these three essentials alone.
Jhansi is probably the only municipal corporation in UP that does not have a sewage line anywhere in the city. Laying a network of sewage line will be a challenge for civic authorities in this hilly district.
In the absence of sewer lines, all the households have septic tanks.
As Jhansi is situated on a rocky plateau between rivers Pahuj and Betwa, its topography will be a stumbling block in laying of sewer lines. Jhansi has natural slopes making it all the more difficult to lay sewer lines.
But Jhansi has many strong points too. It is well connected with all major cities of Uttar Pradesh through road and rail network. Another remarkable feature of the city is that both the North-South and the East-West corridors of the country pass through Jhansi making it a unique city.
Remarkably clean city
When it comes to sanitation, Jhansi stands out among its counterparts. The Jhansi Municipal Corporation was awarded the fastest moving city of the north zone in the population category of 2-10 lakh during the Swachh Sarvekshan (cleanliness survey) conducted in January-February this year under the Swachh Bharat Mission.
Heaps of garbage lying along the roadside is a common sight in any city across the country, but in Jhansi garbage is nowhere to be seen. The municipal corporation is carrying out door-to-door disposal of garbage in all 60 wards of the city.
BJP mayor Kiran Raju, former municipal commissioner Arun Prakash, who is now posted in Agra in the same capacity, and the incumbent municipal commissioner Pratap Singh Bhadauria have played a key role in ensuring cleanliness in the city.
The JMC is among the few civic bodies in the state which is IT-friendly. It issues birth and death certificates online and has also digitalised all its documents. All tenders are issued online.
The digitisation process of the JMC was given a boost by the corporation's IT head Rakesh Sahu.
An M.Tech in computer science, Sahu uses his skills to make the civic body IT-enabled.
Effective disposal of plastic waste
The JMC was among those civic bodies in the country that rolled out a programme to make the city free of plastic waste.
It ran campaigns to spread awareness among the masses about how to segregate plastic waste from other household dry waste.
Courtesy: Hindustan times