(News) Self Help Group producing Turmeric in about 3000 Acre in Sagar, Bundelkhand
Ambitious project to produce turmeric in Sagar
Around 600 self-help groups have taken up ambitious project of producing turmeric in about 3000-acre in Sagar district of Bundelkhand region in the state. Project of producing turmeric has been taken up on a large as climate of Bundelkhand region has been found suitable for it.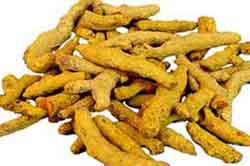 The initiative has been taken by District Poverty Initiative Project (DPIP). For this, members of self-help groups were taken on exposure tour to Sangli in Maharashtra and then through bank linkage, turmeric processing unit.
Through DPIP's efforts, preliminary work for turmeric production was started by Seed Producers Autonomous Cooperative Society at village Kharkhari in Sagar district. DPIP's Sagar District Project Manager Harish Dube informed that turmeric farming has been started with the cooperation of production groups in 25 villages under Devari, Kesli, Tada, Maharajpur and Baroda Sagar clusters in the district.
Courtesy : Times of India