(Article) Bundelkhand : The Next Vidarbha
---
Bundelkhand : The Next Vidarbha
---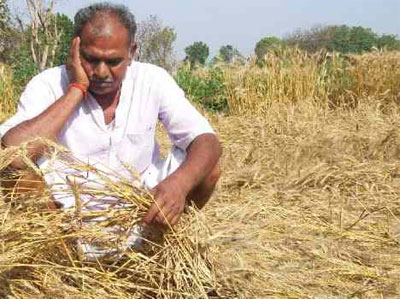 Hari Ram, a 27-year-old farmer, jumped in front of a speeding train on 1 November near his village of Mailoni in Mauranipur in Uttar Pradesh, around 70 km from Jhansi. It was the third such incident in Bundelkhand in the recent past, taking the toll up to 68 in the past five months.
Myopic policies blended with rampant corruption and continuous droughts have brought the people of this region — spread over Uttar Pradesh and Madhya Pradesh — to the precipice. The spate of suicides proves yet again that despite political rhetoric, not much is being done in drought-prone areas, whether it is Bundelkhand or Vidarbha in Maharashtra
Bundelkhand has been hit by drought for the past three years. The conditions, and the debt trap had forced these farmers to take the extreme step.
When Tehelka met Ram's young widow Shanti, she could not control her tears. "As our crops were destroyed, my husband took a loan of Rs 2.5 lakh from the Dhavakar branch of the State Bank. Then, another disaster struck as the tube well in the farm dried up due to drought. As a last resort, he took a loan of Rs 1.5 lakh from a local moneylender to make the well deeper.
"The water came, but as the drought persisted, it stopped. The moneylender started harassing him for debt recovery.
"When this year also our crop was destroyed due to unprecedented drought, his spirit broke and he made the fatal decision."
In Syawri village of Jhansi district, 48-year-old Veer Singh used to be a happy man. His crop was growing well and he had fixed the marriage of his daughter Nidhi, who is a graduate. However, in April, heavy rains and hailstorm destroyed the crops. He set himself ablaze leaving behind his two children, wife and grandmother.
"Local MP and Minister for Water Resources Uma Bharti visited our family and promised to help us but nothing happened after that," says Vinod Kumari, wife of the deceased. "We owe debt to UP Gramin Bank on my husband's name and my mother-in-law's name," she adds. Many such incidents have been reported from various pockets of Bundelkhand and no adequate relief has reached the bereaved family members from the state government.
Courtesy: Tehelka.com