(News) UP Government is Promoting Soyabean Farming in Bundelkhand
Bundelkhand
UP Government to Promote soybean farming
UP is keen to promote soybean farming in the arid Bundelkhand region of the state. A soybean oil milling plant is proposed to be established in Bundelkhand to encourage its cultivation across large expanse of land.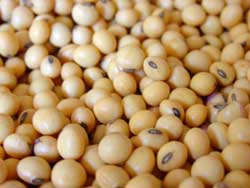 The vegetation and soil in Bundelkhand is suitable for soybean cultivation.as this crop does not require much water for irrigation..
Besides, the government would encourage dairy production by targetting to set up 120 cooperative dairy societies across the seven districts of Bundelkhand in the next three years.Under dairy development, the state has already cleared projects worth Rs 25 crore.
Meanwhile, UP has sought Rs 4,737 crore as second tranche of the Bundelkhand package from the Centre and state Chief Secretary Jawed Usmani has asked the officials to forward a fresh proposal to the Centre.
The funds would be utilised towards rural development, water harvesting and irrigation projects. Bundelkhand comprises Jalaun, Mahoba, Jhansi, Chitrakoot, Banda, Hamirpur and Lalitpur districts.
Courtesy : Business Standard