(News) UP Govt 2016 budget allocates Rs 1400 crore for drought-hit Bundelkhand
---
UP Govt 2016 budget allocates Rs 1400 crore for drought-hit Bundelkhand
---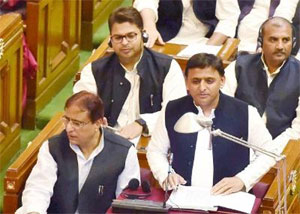 Focusing on the water-scarce Bundelkhand region ahead of the assembly polls next year, the Uttar Pradesh government today allocated over Rs 1,400 crore for it in its 2016-17 annual budget for various projects.
In the budget presented in the state Assembly, Chief Minister Akhilesh Yadav increased resources for various projects for the region.
The fund size of special projects for Bundelkhand has been increased from Rs 71.50 crore to Rs 200 crore and a proposal worth Rs 200 crore has been earmarked for making special arrangements for potable water, the chief minister, who holds the finance portfolio, said in his budget speech.
Another Rs 500 crore has been proposed for surface source- based rural potable water project and Rs 338 crore for special projects for the region, he said.
A provision of Rs 150 crore has been set aside for multi- purpose irrigation project on Betwa river in Jhansi and Rs two crore for tankers to provide potable water in the region. There is a provision of Rs 15 crore for setting up Tilhan plant in the region, he said.
Courtesy: The Economic Times