UP Tourism to develop Uttar Pradesh 1st ropeway in Chitrakoot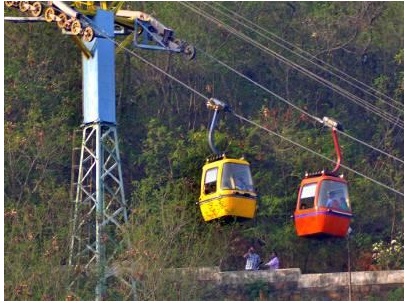 In a first, the state will get two ropeways in the coming Navaratra — one at Vindhyachal, the famous temple of Goddess Durga, in Mirzapur district and the other at Chitrakoot, which had a close association with Lord Rama. Chief minister Aditya Nath Yogi is likely to inaugurate both the ropeways.
Principal secretary, tourism, Awanish Awasthi, who also holds the charge of UPIEDA and information, told TOI that the two ropeways are being developed at a cost of Rs 13 crore each and would cater to the religious tourists. With the two, UP will get ropeways for the first time.
Both Vindhayal and Chitrakoot have special place for Hindu pilgrims who visit the two places every year. Work on the two ropeways is nearing completion and is expected that the CM would dedicate them to the public in September during Navaratra.
Awasthi said that third ropeway of the state is proposed in Allahabad for crossing river Yamuna and Sangam ,but is yet to be approved by the CM. He said that the CM is committed for not only providing more facilities and amenities to pilgrims but also to make the places of religious beliefs more attractive.
Already the tourism department has started chopper services for religious places and the starting of the ropeways would be another step for improving the tourist inflow in the state. The BJP government has also increased subsidy to the pilgrims going to Mansarowar Yatra and similar measures are being adopted to provide more facilities and convenience at other places of religious importance like Ayodhya, Varanasi and Mathura.
Courtesy: Times of India