(News) Uttar Pradesh Film Vikas Parishad will develop Chitrakoot as film destination
---
(News) Uttar Pradesh Film Vikas Parishad will develop Chitrakoot as film destination
---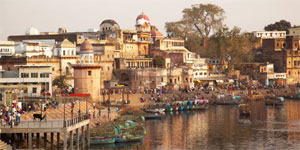 Uttar Pradesh Film Vikas Parishad is planning to develop Chitrakoot, known for its historical significance, as a film destination to attract Bollywood towards it.
"If the proposal of Film Vikas Parishad gets shape, the day would not be far when Bollywood stars like Salman Khan, Ranveer Singh, Kareena Kapoor would be seen shooting in the area," Film Vikas Parishad, member, Vishal Kapoor said after paying obeisance to principal deity of Daanghati temple Goverdhan today.
He said it would be a 'multiple-action plan' aimed at developing the infrastructure for shooting of the films; promoting the place an important tourism destination and generating employment opportunities for the people.
"It would not only provide employment opportunities but would also prove an important tool for promoting tourism as per vision of the Chief Minister Akhilesh Yadav," Kapoor said.
He said he has asked officials to prepare a plan in this regard.
Kapoor said Kamadgiri and Ramghat falling under Chitrakoot may prove an ideal location for the shooting of the films.
Courtesy: Business Standard