(News) Water crisis in Bundelkhand leading to social conflicts
---
(News) Water crisis in Bundelkhand leading to social conflicts
---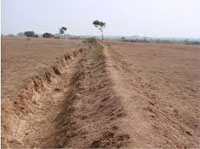 Water scarcity in a distant village of drought-hit Bundelkhand region triggered caste conflict after members of upper caste objected to fetching of water by dalits from a dug well. The trouble in in Kiratpura village, 100 km from the district headquarters of Chhatarpur, home to 40 families began earlier this week on Monday after a clash between members of upper caste and dalits over water.
After the handpump near cluster of dalit houses ran dry, they started drawing water from a dug well outside the village.
Mrignendra Tripathi, SHO, Naugaon police station, said, "Upper caste community objected to it and wanted dalits to use other pulley to draw water from the well. The well is owned by them." Brahmins and families of weavers having a dominating presence in the village having a population of 3,500.
Cops, however, claimed the trouble started when dalits and Brahmins clashed over some petty issue. "Houses of dalits were ransacked, their belongings damaged and food grain thrown away," police said. Raju Bichole, 28, said, "Whatever valuables, including TV sets, we had were either stolen or damaged."
"Despite police complaint," he said, "Those, who indulged in loot are moving around freely threatening us."
Dalits said, "All this started because we were fetching water from a well that they claimed belonged to them."

Courtesy: The Times of India