(News) We will consider separate demand of Bundelkhand in future : Beni Prasad Verma
Bundelkhand
If Needed, Will support demand for separate Bundelkhand: Beni Prasad Verma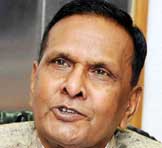 Union Steel Minister Beni Prasad Verma on Thursday expressed concern over the backwardness of Bundelkhand region and said that if required, he would support the demand for a separate state to be set up there.
But Verma assured that were Congress to retain power at the Centre after the 2014 general elections, Bundelkhand would be made into a model of development for the country.
He was speaking at the inauguration of a steel processing plant in the Badagaon area here.
Verma said that with a view to providing greater job opportunities for locals, a steel yard and service centre would be opened in the region.
Local MP and Union Minister of State Pradeep Jain Aditya, who was accompanying Verma, sought the latter's support in taking up the matter of states' reorganisation with the Congress leadership.
Bundelkhand is a geographic region in central India stretching across Uttar Pradesh and Madhya Pradesh, with the larger portion lying in the latter.
Courtesy : Zee News