Rajkiya Engineering College, Banda : FACULTY JOBS

| Advt No. : 01/Recruitment/Banda/2017 | Dated : 12-05-2017 |
| --- | --- |

1. On-Line applications are invited in the prescribed format for appointment at teaching positions of Professors, Associate Professors and Assistant Professors in the Department of Electrical Engineering, Mechanical Engineering, Information Technology and Applied Sciences & Humanities Department (Physics, Mathematics, Chemistry, English, Management and Electronics Engineering) and appointments at various Administrative/Non-Teaching and Teaching support positions available at this Institute.
2. All posts carry allowances and other benefits as approved by the Govt. of U.P. from time to time. Higher candidates pay may be considered for highly qualified & experienced.
3. The on-line application can be submitted through our website www.braecit.ac.in from 14 May 2017 to 05 June 2017 (Midnight). After entering the required data at On Line Recruitment System, the candidate may download hard copy of completed application form. Each candidate is required to register with his valid Email id and mobile number before filling application form.
4. The completed application form (print/hard copy) along with all required supporting documents (self attested hard copies) and requisite application fee in form of demand draft should be sent through Registered/Speed Post only to the Director, Rajkiya Engineering College, Banda-Chitrakoot Road, Atarra, Banda-210201(U.P.) so as to reach latest by June 11, 2017 upto 5 p.m.
5. Those candidates who have already applied for above vacant positions against our Previous advertisements No. 01/Faculty/Banda/2016 and 02/Non-Teaching/Banda/2016 Dated: 05-11-2016 need not apply again. However, if any Such candidate has acquired additional qualification/publications etc. may submit a fresh online application without any fee.
6. A candidate applying for two or more than two vacant position must send separate application along-with requisite application fee.
7. All candidates applying for faculty positions ( Professor, Associate Professor, Assistant Professor) must enclose a demand draft of Rs. 1200/- (Rs. 800/- for SC/ST candidates) as an application fee drawn in favor of "Director, Rajkiya Engineering College, Banda" (U.P.) payable at Atarra or Banda.
8.The hard copy of application generated through online recruitment system must be signed by candidate. A completed application in all respect along-with necessary documents (self attested photocopies) and a demand draft must be kept in envelope by clearly writing advertisement number, name of post and department on top of envelope. Theapplication completed in all respect must be sent by registered/speed post to the Director, Rajkiya Engineering College, Atarra, Banda-210201 (U.P.) so as to reach us latest by June 11, 2017 upto 5 p.m.
9. Details of Vacant Faculty Positions :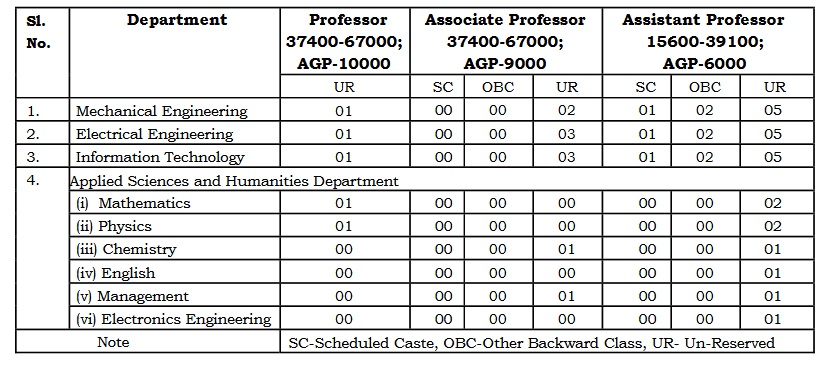 10. Educational Qualifications-As per AICTE norms
Please visit AICTE website www.aicte-india.org for educational qualification and experience for faculty positions.
11. Other important Terms and Conditions
1. Guidelines for filling up Performance Based Appraisal System (PBAS) form for the calculation of Academic Performance Indicators (Research and Academic Contributions) along with format of Application Form (Faculty Positions) is available on our website.
2. Essential/Desirable Qualifications and Experience on the last date of application are applicable as per AICTE norms given on the website. www.aicte-india.org
3. Age limit shall be considered as per Government of Uttar Pradesh rule.
4. Number and nature of vacancies may be changed. No claim arising out of the change in nature and/or number of posts advertised shall be admissible.
5. The Institute reserves the right not to fill any or all the advertised posts.
6. The employed candidates must send their applications through proper channel. However, an advance copy may be sent and NOC must be produced at the time of interview.
7. Candidates applying for multiple posts should send separate application for each post. No TA/DA shall be provided to the candidates for attending the interview.
8. Candidates should essentially bring the original documents in support of their claim in application form and as prescribed in interview letter, failing which they shall not be considered for interview.
9. The qualification and experience prescribed are the minimum and mere possession of the same shall not entitle a candidate to be called for the interview.
10. The application form, PBAS pro-forma and other details can be downloaded from the Institute website.
11. Duly completed PBAS pro-forma containing API assessment should be sent along-with the application. The horizontal reservation for female candidates, dependent of freedom fighters and Ex-servicemen will be applicable as per State Government Rules.
12. Candidates not possessing the prescribed qualification and experience on the last date of application shall not be considered in any case.
13. A screening board shall scrutinize all the applications for recommending the candidates to be called for interview. No representation from those, not being recommended and not Called for the interview will be entertained at any stage.
14. The application form must be supported by self attested copies of mark sheets/certificates/degrees/caste certificate/age certificate/experience certificate/no objection certificate/ list of titles, books, research papers, articles, publications etc. as mentioned in application form. A passport size 4 attested photograph should be affixed on the application form in the space provided.
15. Incomplete applications or applications received after the last date shall not be entertained.
16. Candidates belonging to the Schedule Cast (SC)/ Schedule Tribe (ST)/ Other Backward Class (OBC) Categories of Uttar Pradesh are only eligible for reservation in respective category. Such candidates shall have to produce the category certificate as proof of being from respective category. Candidates from OBC category shall have to produce OBC category certificate issued on a date not earlier than 6 months at the time of interview. Candidates failing to produce the valid category certificate as prescribed by U.P. Govt. shall not be allowed to appear in interview and Institute will not be responsible for the consequences arising thereof.
17. The completed application forms along with prescribed fee must reach to the Director, Rajkiya Engineering College, Atarra, Banda (U.P.) Pin-210201 through Registered/Speed Post only, latest by 11 June 2017 upto 05.00 pm failing which the applications will not be considered.
18. All appointments made against these posts shall be governed by the rules and regulations as prescribed by the Institute