Study on Bundelkhand of Planning Commission: Introduction - Caste, Religion and Language

Study on Bundelkhand of Planning Commission: Introduction - Caste, Religion and Language
Caste, Religion and Language
As per the 1991 census, 23.27% of the state's population are Scheduled Tribes(STs) and 14.55% of the population are Scheduled Castes (SC.). MP has the largest population of Tribes in India. Most of the tribal population is concentrated towards the southern half of the state. Northern MP of which Bundelkhand and Bagelkhand are the parts, constitutes of a very small proportion of tribal population but still district Panna has 14.90% tribal population while district Satna has 13.81% of it.
Administrative Details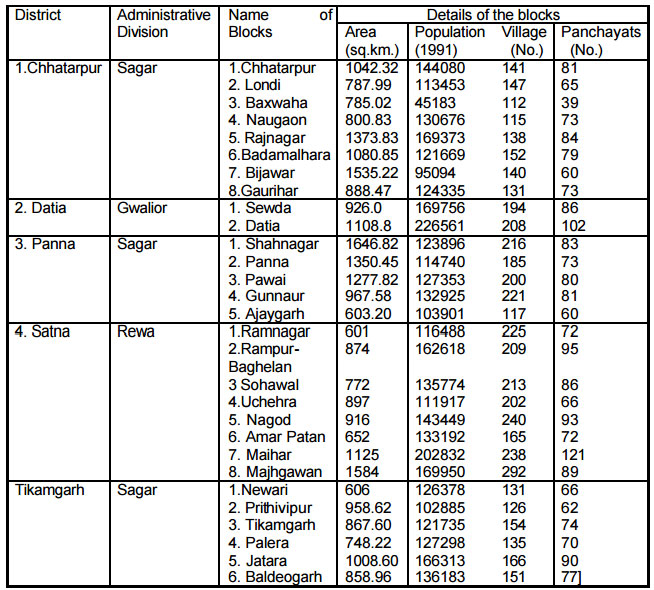 Scheduled Caste population is considerable in all the districts, namely Datia, Chhatarpur, Tikamgarh, Panna and Satna. It is above the national and state percentage for each of these districts. In district Datia, where the tribal population is negligible (1.71%) scheduled caste population is 24.67% of its population. It is the highest percentage of SC population in any of the districts in MP. The detail is shown in table
In the state, around 93% of the population is Hindu, 5% is Muslim and 2% follow other religions. Districtwise detail is given in Table
So far as the languages of the state are concerned, the major language is Hindi which is spoken by 84% of the population. Marathi is spoken by 2% and Urdu by 2%. Urdu is.spoken mostly by Muslims.