Study on Bundelkhand of Planning Commission: Aspects of Economy - Forest and Animal Resources

Study on Bundelkhand of Planning Commission: Aspects of Economy - Forest and Animal Resources
Forest and Animal Resources.
One fourth of the total forests of the country falls in MP. Within MP, 34.94% of its total area is forested. But these forests are not equally distributed throughout the state. There might have been time in medieval ages when Bundelkhand was heavily forested, as we came across stories that it was safest hideout for the fugitive and defeated armies of warring kings and feudatories. But now the forests of Bundelkhand are dwindling. It is causing concern because it has been a major source of livelihood for poor prople. People living in and around forests have been using it for shelter, fuel food, drinks and smoke, medicinal plants, crafts and cottage industries. But the control of forests by government through its forest department and the nexus between feudal and officials forces has left the poor people, partiuclarly that of ST/SC, relatively out of the benefits of the forests.
In Bundelkhand, Panna is the only district which has the percentage of forest area over 50% with respect to its geographical area. Satna and Chhatarpur have the forest cover between 20-30%, while Datia and Tikamgarh have it less than 20%.(see table )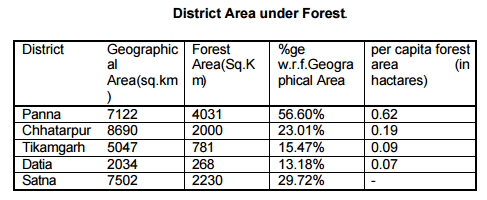 The forests of Datia and Tikamgarh are northern sub-type of thorn-forests while that of Chhatarpur, Panna and Satna are of eastern sal, a sub-type of Tropical Moist Deciduous Forests. On the basis of the recorded forest area, Panna is the only district in Bundelkhand, which is self-sufficient in forest resources. Chhatarpur and Satna are having deficit in fuelwood but surplus in timber. Datia and Tikamgarh are among those districts, which are showing deficit in both, timber and fuelwood. This might have been due to the excessive cutting of forests in these districits.
Bundelkhand, devoid of forest cover, looks like a barren land with naked moulds of hills. The problem of soil erosion, soil filling into the ponds making them useless, direct flow of rainwater into the rivers, depleting ground water resources and unproductivity of the land, all these are the emerging issues in Bundelkhand which have roots into the depletion of forest cover.
Forests in Bundelkhand have been a major source of livelihood for poor people. Though, tribes have been dependent on forests for everything in their life, other caste people, particularly that of Scheduled Caste, have also been dependent on it for food. Mahuwa has been one of the major sources of food for poor community living in the rural areas of these concerned districts. If one passes across Bundelkhand district during March -April, one can observe the importance of Mahuwa in the life of people. One can sense the smell of it all around during those a few months. Mahuwa's flower, fruit and seed, all are useful for the livelihood of poor people. Mahuwa flower is most important because it provides almost ready food for them. It has been observed and estimated that Mahuwa fulfills at least three months'food requirements of poor community. It is considered to be a poor man's food while it is a food for the animals of rich people. Such is the importance of Mahuwa in this region that there is a say which means that ,"if one does not like the smell of Mahuwa, he should not send his daughters in marriage to Bundelkhand." During March-April of every year, all the members of the families living below poverty line would be seen collecting Mahuwa flowers in the forests. Children won't go to schools, would leave their examinations even and their parents wouldn't go for any other kind of wage labour because from Mahuwa they don't only get food for their family but also get cash after selling it in the market. In the process of selling the dried- up Mahuwa flowers, the role of middlemen emerges. Poor people, who collect if from forests, can't keep it for long in their houses due to non-availability of space and non- durability of it.As it has its sell value and poor people require cash money for their other needs, they sell it into the hands of middlemen at very cheap prices, who in turn earn profits in the market. So the aspect of exploitation gets involved because people don't get expected benefit after giving so much of their time and labour in collecting and drying the Mahuwa flower. NGOs and community based organisations can play a major role here by organising the Mahuwa collecting people into cooperative form and providing them space for collecting Mahuwa for a long time to increase its sell-value without middlemen.
Apart from Mahuwa, the forests of Bundelkhand also provide various other non-timber forest products (NTFP) which are economically beneficial for poor masses. Such products are Tendu-leaves, Palash-leaves, Amla, Harra, gond, imli, khair, chiraunji, babul, anjan, salbeaj nd other medicinal plants. A large number of people are involved in collecting the NTFP and earn out of it but again the real profit goes into the hands of middlemen. Making bidi ut of tendu leaves and exploitative processes involved in it,actually raise a major issue in Bundelkhand.
Tribal families collect firewood from the forests, make bundles of it and sell it out in the markets of local towns or local markets of rural areas. But here again, they don't get the real price of their labour and product. They have no options but to sell it at cheaper prices because of their urgency to sell it out to meet their other needs at home.
Bundelkhand has a major national park, named Panna National Park, covering the area of 543 sq.km, mostly in district Panna and a little in Chhatarpur. It has quite a large number of wild life, in terms of tigers (22), panthers(50), nilgai(951), chinkara(908),chausingha (131), black buck (31) and barking deer (33). There are habitations of tribals in the forest area, completely dependent on it. With Project Tiger, at least 10 villages of tribals are to be displaced in district Panna and this is a major developmental issue and concern because people are not willing to be out of their original habitation.
Poverty and quality of life in Bundelkhand
Case Note 3. Village - Sakaria, Panchayat-Sakaria, Distt:Panna.
Village Sakaria is the part of block Panna, in district Panna and is situated on Panna- Satna road, some 15 kms away from Panna. The village is constituted of 200 households with the population of around 1500. The population is constituted of Thakur, Brahmins, Yadav, Ghosi, Nai and Gond (Adivasi) community. Thakurs, locally called zamindars, are well off because of their land holdings and their family members being in government jobs. Yadavs and Ghosi are involved in agriculture and livestock business and are also better off socially and economically. Thakurs, Brahmins, Yadav and Ghosi families take pattas in Diamond mines and earn financially. But the Gonds, who are the largest community in the village, are mostly poor. Only 4-5 families of them have a little land, which is mostly wasteland, completely nonviable for agriculture. Almost all of them are labour. Though sarpanch of the panchayat is an adivasi but it does not make difference to the control mechanism of the traditional powercentres, the landlords. It seems that development has not reached to these poor people.
Feudal forces hold the reign of rural life and not the government administration. Poorest section is involved either in agriculture as labour or in selling fuelwood in the market.
In cultivation, main crops are rice and mungfali during kharif and wheat, gram, masur during rabi. The village, due to its nearness to diamond-mines, has got forest nearby and several miner products from forest are available. These are goose berries (amla), chiranji, harra, trifala, mahuwa, gond etc. Panna is exporting goose berries (amla) outside the district but the whole trade is controlled by feudal forces. In the diamond mines the lease is mostly with rich people. There are stone mines also where all the tribal families are labourers. The health concerns are there because apart from malaria, TB is also prevalent in the village. Malnutrition is visible particularly among the children of tribes.
As a agricultural wage labour, male gets Rs25/per day while females get Rs20/per day. Women working in the household of landlords are open to various kinds of exploitations, including sexual abuse. In non-agricultural labour, diamond mines provide the employment during the four months of rains, when they are given the work to cut soil on contract, in which males get Rs40/.per day and females get Rs30/per day. But labour gets the work for three days a week on an average. In such mines, the labour is treated badly. The interest rate on the loan taken from land owners is high. Those who have taken loans, have to work on the land of landlords simply on the wage of Rs10/per day from which they have to pay the loan also. If somebody has taken the loan of Rs.200/ he has to work as labour for 7 to 9 years for the landlord.
Drinking water is major problem because out of 4 handpumps, only one is working and others are completely out of order.
Women are over burdened. Women of poor families, after getting up early in the morning ,go to Panna, 15 km away to sell fuelwood bundles and return back by 4 pm to go again to far off forest area to collect fuelwood. Each bundle of fuelwood earns them 10 to 15 Rs.
There is a primary school in the village in which 75 students are studying. There are 35 girls in the school. Most of these girls are from the families of Thakur, Brahmin, Yadav and Ghosi. There is no girl from the tribal family. Only 5% of males and around one percent of females are literate in the village.
Sarpanch is from the tribal community but he tells that he is not listen to by the block officials. He has stopped visiting blocks. Whenever any block official visits the village, he/she goes to Thakur sahib's place and sarpanch is asked to reach there to answer a few things required. Hardly any work has been done by the Panchayat.

Chhatarpur has Ken Ghariyal Sanctuary, covering the area of 45 sq. kms, to preserve the alligators.
Apart from forest resources, livestock is also a major source of livelihood for the people of Bundelkhand. The region is famous for its livestock population which provides milk and other animal products, apart from oxen for cultivation.
District Tikamgarh has the animal count of 8,19,557 in which the largest share is that of cow family with its number being 4,63,806. Buffalo family constitutes 1,29,848 whilesheep/goats/pigs constitute 2,25,903. This shows the importance given to livestock by the people of Bundelkhand because, these animals serve the livelihood purposes of the people. The population of hens etc. is also considerable who are 78,486 in Tikamgarh district, counted in 1995-96.
The similar pattern, like that of Tikamgarh, follows in other districts in terms of the population and importance given to animals and livestock. Satna has the count of 10,54,314 livestocks, Panna has 7,58,874, Chhatarpur has 13,65,019 and Datia has 3,14,786. These animals serve mostly through milk, manure and cowdung, apart from being used in cultivation, carriage and transport.