Study on Bundelkhand of Planning Commission: Health - Care Aspects

Study on Bundelkhand of Planning Commission: Health - Care Aspects
Health
Health Care Aspects
Though, the health indicators in MP in general and Bundelkhand in particular are showing a dismal picture a positive picture is also there in terms of improvements in health sector. Vaccine preventable diseases are on the decrease. But situation is still grim. According to National Family Health Survey (1992), 34% of young children have not received any vaccination against six preventable diseases in MP. The situation is almost the same in backward districts of MP. There are urban-rural variations also. While there were 43% of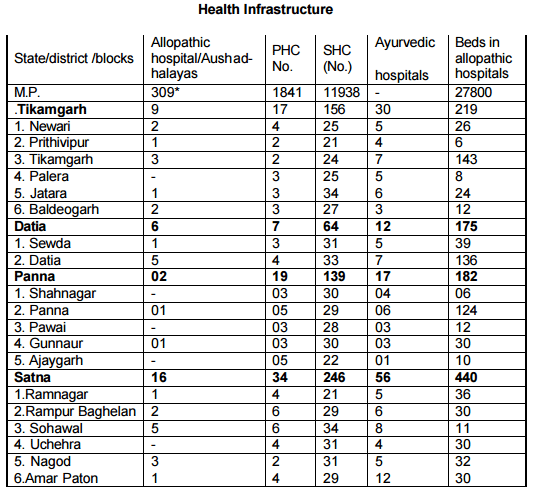 Source : District Statistical Booklets of Districts, 1996.
* District Hospitals and Community Health Centre.
Children in urban areas fully vaccinated , only 26% of rural children were fully vaccinated. Boys are more likely to have got a vaccination than girls. Vaccination coverage is lowest among ST and only 19% of ST children are fully vaccinated.
Diarrhoea has been an important public health problem and one of the major causes of childhood mortality in India. UNICEF, Bhopal (1996) in its report "Community Awareness on Diarrhea Management in MP", mentions that when baselines survey was conducted by the Rajiv Gandhi Mission in 1995, only 4% of the rural and 14% of the urban mothers were aware of Oral Rehydration Salts(ORS). UNICEF itself conducted a survey in 1996, almost one year after the baseline survey and communication/awareness compaign followed it. In this UNICEF survey, one village from each of these districts Datia, Tikamgarh, Chhatarpur, Panna and Satna were also taken. The major observation was that a majority of the mothers perceived diarrhea to be an important illness and took steps to manage it. In the home management of diarrhea, the practice of Oral Rehydration Treatment (ORT) was found to be much higher in the urban areas, indicating the need to orient the rural masses on this aspect. Awareness of ORS was observed in 76% of the respondents but for rural areas it
was 58% which indicates the need to sustain awareness generation activities.
The nutritional status of children in MP is very poor, according to National Family Health Survey (NFHS) .Undernutrition is very high in the state. Fifty seven percent of all children under four are underweight for their age, and 22% are severely under-weight. The situation reflects the same for backward districts of MP which include the concerned districts.
So far as the external care and assistance at delivery is concerned, according to NFHS, only 52% of mothers received antenatal care in MP. Most babies (82%)are delivered at home, 12% are delivered with public health facilities and 4% with private health facilities. Thirty percent of deliveries are assisted by a doctor or nurse/midwife, another 30% by a traditional birth attendant, and 39% by a relative or other person. Thus, a sizable proportion of deliveries are conducted by untrained persons, resulting in higher neonatal mortality rates.
1. Family planning.
Though it has been noted by NFHS that knowledge of family planning is very high in MP and 88% of currently married women know of at least one contraceptive method, it has also concluded that only 37% of currently married women practice family planning. A relativelyrecent survey by the health deptt of MP has put this percentage at almost double but truth may be around the figure shown by NFHS in backward districts of MP.
A look at the family welfare programme (1995-96) in the districts of Tikamgarh, Datia, Panna, Satna and Chhatarpur approves of the poor facility and coverage by family welfare centres of these districts. In most of the blocks of these districts, each such centre has to cover more than one lakh population (see 3.3 table). Workforce in Health (1995-96)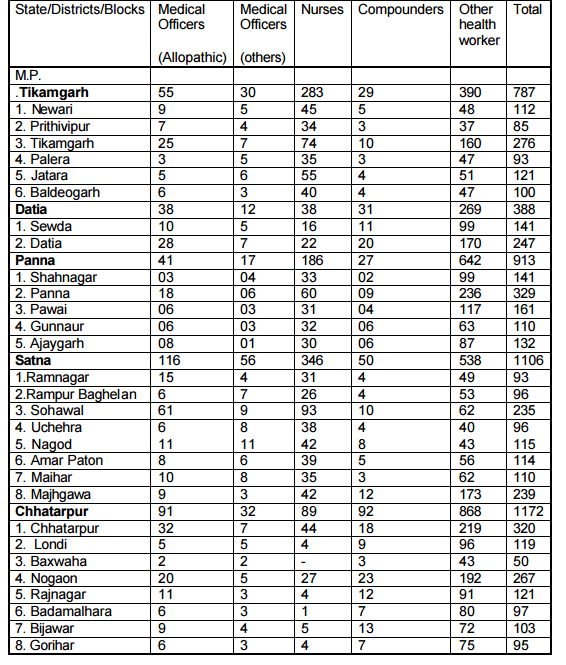 Sources: District Statistical Booklet of Districts, 1996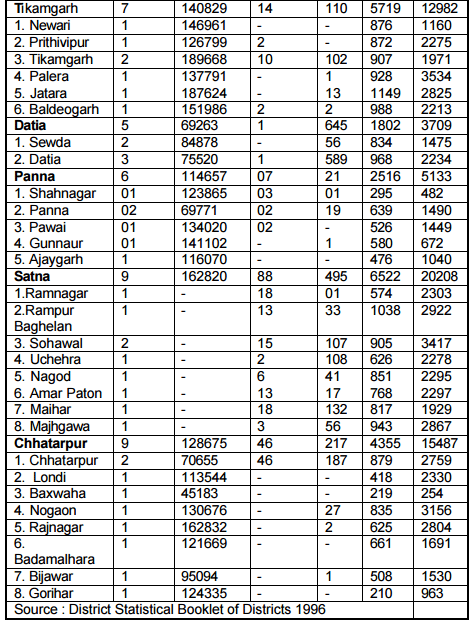 Family planning programme centred towards the women while male population has hardly gone for permanent measures of family planning. In district Chatarpur, no block except Chhatarpur has recorded male operation for family planning. Similarly in district Panna, blocks Gunnaur and Ajaygarh have not a single vasectomy case recorded. Similar is the case with block Sewda in Datia district and blocks Newari, Palera and Jatara in Tikamgarh district. So, women have been the major focus of family welfare programmes and menfolk have taken hardly any interest in permanent family planning methods. This has always been the area of concern.
2 Water and Health
Water borne diseases have been one of the major killer in MP. A large number of villages in the state have no access to safe drinking water facilities. The condition is further worse in the districts of Chhatarpur, Datia, Tikamgarh, Satna and Panna.
Tikamgarh, Chhatarpur and Datia have been among a few districts of MP which had epidemics of cholera and gastroenteritis almost continuously from 1979 to 1988. There is further need to make the population aware on the preventive measures of these water borne diseases. Apart from these, Guinea worm affected villages were also existing in Tikamgarh, but they were one or two in number till the beginning of the decade and the government claim that they do not exist any more.
Non availability of potable drinking water is a major problem in the villages of Bundelkhand. Two to three hundred villages in each districts are still uncovered by the government programmes to provide safe drinking water and among these villages, a large number is that of difficult villages, where special effort is needed to provide potable water. (see table 3.4)
All the villages at least one handpump (India mark II)installed according to the district public Health Engineering- Department of the concerned districts but 1981 situation of the problem villages in terms of drinking water facilities is given below. (table )