UP Govt likely waive off 100% Farmer loans in Bundelkhand
UP Govt likely waive off 100% Farmer loans in Bundelkhand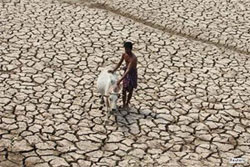 The BJP government is likely to give 100% loan waiver to farmers of Bundelkhand region who have been facing drought-like situation for the past several years. In the other regions, the party is likely to assess the need of farmers before extending the benefit as per its election manifesto for UP elections.
"We are committed to fulfil the promise of writing off crop loan of farmers that we made in our manifesto. It will happen soon," newly appointed finance minister Rajesh Agarwal told TOI.
"All farmers irrespective of their land holdings would get the benefit of the government's
Talking to TOI soon after chairing a high-level meeting of finance department to discuss the modalities so that maximum number of farmers could be cover under the government's loan-waiver scheme, Agarwal declared that all farmers of Bundelkhand whether big, small or marginal would get the benefit under the scheme which would be announced soon.
In reply to a question, the finance minister said that the government was considering all options of mopping up money for this waiver scheme -- borrowings from the market, loan from the Government of India and pooling in money from the state's revenues.
"Bundelkhand farmers have suffered a lot in the last season due to the inclement weather. Therefore, the BJP government is committed to their welfare," he said. At present, there are 2.3 crore farmers out of which 2.15 crore are small and marginal.
Read More..........
Courtesy: Times of India