(Report) Bundelkhand Drought by Outlook Magazine.
Where Are The Balladeers?
Drought, suicides and no relief. Will things ever change for Bundelkhand's worst districts?
Sharat Pradhan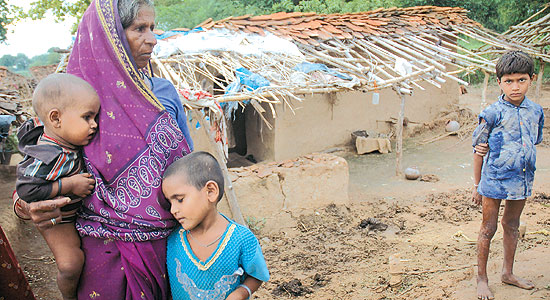 Regional Sorrow
Area: 29,418 sq km 

Population: 1 crore

Irrigated area: 8,20,248 ha

Foodgrain yield: 11.32 quintals/ha, half of UP's average

Poverty-driven suicides since 2003: Over 200

Max suicides: 86 in Banda dist

Ministers from the region in Mayawati's cabinet: Six

Bundelkhand's 7 districts in UP are among India's poorest

Failure to implement NREGS properly adding to the crisis
When 29-year-old Suman ended her life by hanging herself in her ramshackle hut in Pukari village of Banda district in Uttar Pradesh this year, it did not make big news. Situated as the village is in the dirt-poor Bundelkhand region, the reasons were not hard to seek. Starvation-driven suicides are nothing new here—farming is a thankless occupation in this dustbowl landscape in the best of times, and the drought caused by a poor monsoon has only deepened a habitual distress. Since 2003, there have been about 200 suicides said to have been provoked by indigence—the figure may be higher since deaths are often passed off as having been caused by disease.
Yet, significantly, Suman's was the first case of a woman committing suicide because of drought and poverty. She felt unable to provide food for her children. Some time back, she had lost her seven-year-old daughter to an unknown infection she could not afford to get treated. What probably drove her to take the ultimate step was her inability to manage a single meal daily for her two other daughters.
Courtesy: Outlook India