(Report) Stone Crushers in Kabrai by Abhilash Nigam
Stone Crushers in kabrai
Crushing stones or rights of people?
By: Abhilash Nigam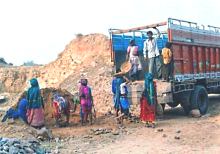 Kabrai in Mahoba district of Uttar Pradesh in Bundelkhand region is located at 25.42° N 80.02° E on an average altitude of 157 meters (515 feet). Kabrai is a town where main business is stone business. There are around 100 stone crushers in and around the twon. Hindustan Construction Company has established a new crusher plant there. This place is famous for stone production as there are more than 400 stone caves followed by wheat production. The market of stone crushing was developed in 1979 with two stone crusher companies. In the year 1982 it was recognized and supported by the government for its development. This initiative by the government helped in increasing the number of stone crushing companies. Shakti Stone Udyog and Central Stone Udyog were the industry leaders. Today Central Stone Udyog has more than 4 different units of Crusher with large area of mines (40Arces) in different corners of Kabrai.
The typical setup of stone industries in Kabrai and blind ambitions of their owners has turned to be a curse for the area especially in terms of environment pollution and human rights violation. Continuous quarrying or mining operations in the form of drilling, blasting, loading, and hauling including plant process operations are potentially significant sources of emission of dust. These stone crushers – though socioeconomically an important sector – create a substantial amount of environmental pollution and ecological imbalance by way of the stone dust emissions and depletion of mountains of the region that adversely affect the ambient air quality, human health, ecology balance, fertility of farming lands. The sources can be categorized in following ways viz. Emissions during mining Emissions during unloading of mined stones at crusher site emissions during crushing operations, emissions during material movement and transfer, emissions during vibratory screening operation, emissions during transportation, Secondary emissions from stockpiles, emissions during loading of crushed stone products.
Though environmental legislation for stone crushers for control of emissions exists, yet its execution is only in black & white. This is due to factors such as lack of availability of low cost and appropriate dust control systems, lack of pressure from the regulatory authorities, lack of willingness and awareness in unit owners, and lack of awareness in the affected general public living in surrounding areas, and above all the feudal system imposed by the strong unit owners. Till date, consequently more than hundred acres of farming land have been reported to become barren and infertile due to steady dispersion of stone dust caused by these stone crushers, which is the only source of livelihood for small scale farmers of the area.
Another ugly face of this industry in this and in other similar regions is gross violation of human rights along with child labor and critical ailments to the working laborers of crushers.  
The work of laborers in these units mainly involves breaking, carrying and loading -unloading stones. The crusher laborers work in the open sites without any shelter whether in the hot sun, shivering cold or rains. As they are paid on a piece-rate basis, there are no working hours or timings or assurance of minimum wages.  Both rain and sun are a curse to the workers. The tents or so-called shelters are too small for the entire family to take shelter if it rains.
In these stone mines and crusher units, the poor laborers have been working since their last two or three generations. Not only this, these people are almost confined in their working sites that undoubtedly make them Bonded Laborers. They can not even open their mouth against their lords, because these mines owners have proved to be stronger than labor department, law and government. If any laborer tries to open his mouth to utter his condition, it may result in his disappearance from the picture never to be seen in future. (As per ABSSS, an NGO working for the rights of marginal community of Bundelkhand)
Local people says, "Firstly the Thakur community came to this place and started the business of stone crushing by installing units thereafter Adiwasi community was brought from Madhya Pradesh and adjacent areas in the name of giving them employment and livelihood."
Migrant workers in these stone crushers are the most vulnerable falling prey to exploitation in different ways (especially women and girl children who are working in these mines and crushers in large numbers). Socially, women and children are the victims of alcoholic male members of the families and many of them are reported of being physically abused and having to give a major part of their wages for purchase of liquor. Even young boys are becoming victims of intoxication due to the physically exhausting work; where as women and girls just learn to live with the physical pain of working in the mines. The incidents of accidents and deaths at working sites have been reported but for hardly any compensation given by unit owners and the contractors normally hush up the cases.
The stunning fact that the children are forced to work all through the day in stone breaking just to make a living. The children are found to be lifting heavy loads of 10-15 kilos to carry even at the age of six and seven.  Most of the children working there can be seen burn patches and wounds on their hands that they cannot tell anybody. The infants are inhaling the dust emitting from stone sites. Child laborers are working in alarming numbers in stone mines and crusher units in the direct violation of the Constitutional rights of children. Most of the children are migrant laborers who are working in highly hazardous and painful conditions in the mines and the situation calls for urgent action. Children are handling high levels of exposure to the stone dust, which is above permissible levels and therefore susceptible to serious and chronic health problems like Silicosis, Tuberculosis, Asthma, Disability etc. Almost, all the stone mines here have child laborers with the mine owners manifestly violating laws related to employing children in hazardous conditions. The working and living conditions of child workers are highly exploitative, inhuman and do not have even the very basic amenities either for work safety or for minimum human living needs. There is a high drop out rate of children from schools in this belt as they have been employed into the vicious stone labor market. There is high indebtedness and serious health problems of mine laborers because of which children are pushed into the stone labor force from a very early age. The entire chain of mining operators including central and state governments, all the private, public mine owners in the area, the traders, buyers, national and multinational companies connected to this industry and processing, contractors and others involved in this industry are equally responsible for the existence of child labor.  Stone laborers along with their children are undergoing serious physical, social, sexual, mental and environmental exploitation and disturbance by the entire chain. The stone industry is violating all national and international standards, laws and human rights of children. The State and stone industry are blatantly escaping any accountability towards the issue of child labor and rights violation here. Unfortunately no adequate steps have taken to intervene the issue till date except running formal labor schools but not in this specific region.
All civil population is called to appeal for urgent actions:
Volunteer organizations and civil society must jointly intervene the issue by carrying out regular advocacy breaking the web of feudalism in stone business   
Government must immediately take action towards release and rehabilitation of all child labor in the area.
Gram Panchayats or Gram Sabhas must be given the power, mandate and responsibility for monitoring the child labor situation in their respective panchayats and submit periodic reports of the status to the district authorities.
National Human Rights commission must visit such sites with a concrete findings and actions. Public hearings should be conducted for all sites by the administration 
The Central and state government should immediately conduct an enquiry in all the stone mining areas in different regions and with a comprehensive report on rights violation and effect of such mining on ecology and environment. The report must be produced for public study.
Government must accept the fact that child labor exists on a large scale in such type industries
An enquiry must be commissioned immediately by the Governments of India and Uttar Pradesh on the exploitation of children in stone crushers and violation of labor and children's rights in the area.
Department of Labor under the Child Labor (Prohibition and Regulation) Act, 1986, The Mines Act, 1952, and The Bonded Labor System Abolition Act, 1976 must immediately taken against the employers
Mining leases should be cancelled to those who employ child labor and norms of ILO.
State must issue a pause on new leases as mining should not be continued with such pollution gross human rights violations of adults, both men and women and children.
References/sources: Study on Stone Crusher Children Jeevan Rekha Parishad, Orisa, TERI information monitor on environmental science (environmental management scenario in stone crusher industry sector), Akhil Bhartiya Samaj Sewa Sanstahn Chitrakoot (Uttar Pradseh), Census of 2001 Uttar Pradesh NIC