(Guest Post) Sudhanshu Bhushan Dwivedi on Bundelkhand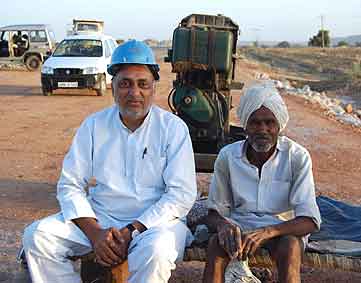 You are well aware that our Bundelkhand area has been passing through a near drought like situation for the last four years.The state government is not in a position to look after the rehabilitation and proper drinking management not only in remote areas but in so called urban areas too.The fund sanctioned by the Central Government to the Government of Uttar Pradesh for the said cause is totally been misused to say the least.The latest report of the Human Rights commission indicates that the state machinery is not able to handle the death of farmers in Banda and Mohaba districts.Even the state govt.has made criminal cases against the farmers for utilization of river water which reminds me of the brutality of the British Raj leashed on satyagrihis.
The NABARD scheme for rehabilitation of small and medium dams of Bundelkhand is totally mismanaged by the irrigation department in Lucknow.
Now the time has come for us to take charge for the formation of Bundelkhand Water Development Authority under Ministry of Water Resources Govt. of India on the pattern of Bhakra Vyas Water Management Board. The National Water Development Authority already conducted various surveys and made reports to Govt of India for Ken Betwa River linking project.The Authority has already set up a office in Jhansi and the survey of Soin and environment impact is completed. The work on DPR is in progress.But the main problem is that non of our local leaders have the vision and the capability to expedite this ambitious water project for progress of people of Bundelkhand and generate rural employment in the area.If you have the serious thought for the upliftment of the Bundelkhand people and permanent relief from drought.
I offer my sincere efforts and follow up of this project since I am a sincere social worker born and brought up in village Bhansayan Rath dist HamirPur, Bundelkhand. Right now I am handling one ADB project of NHAI North South corridor from LalitPur to Amjara 38 km and giving job opportunities to the locals.
Regards
Sudhanshu Bhushan Dwivedi