(News) UP Government Identifying Land For Developing a Civilian Airport in Jhansi
AAI team inspects land identified for Jhansi airport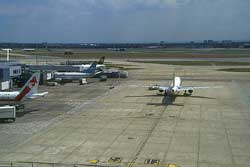 With the UP government identifying land for developing a civilian airport in Jhansi, a team of senior officials from Airports Authority of India (AAI) and UP Civil Aviation have visited the proposed sites for the first airport in Bundelkhand region.
Last year, Union Civil Aviation Minister Ajit Singh had written a letter to CM Akhilesh Yadav, asking him to hand over the Jhansi airstrip run by the Army to AAI so that a civilian airport could be developed there. Singh had written several letters to the Chief Minister, expressing his keenness to develop civilian airports at Agra, Meerut and Jhansi and providing the land for this purpose.
A UP civil aviation department official said a team comprising AAI executive director (planning) Kalpana Sethi, state civil aviation department special secretary S K Raghuvanshi and UP civil aviation director Devendra Swaroop visited the two sites on Friday.
The team inspected the land identified in Safa village near Shivpuri Road and the airstrip which is now under the control of Army. One of the members of the team said the AAI officials also conducted the aerial and ground survey of both the sites but there was constraint of space in developing the airport at existing airstrip as it has a highway on one end and a residential colony on the other.
Courtesy : Indian Express