(News) Bundelkhand suffers between Centre and states political quarrel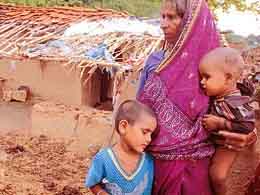 Budelkhand is not expecting any additional package from the Central government, as the latter has decided to continue with the package which was announced two years back in the 12th Five Year Plan for the most backward region.
With this step, the Centre no longer needs to allocate any additional funds for the region. But the decision will increase the political pressure on Uttar Pradesh as well as Madhya Pradesh (MP) governments.
According to sources, the Central government's decision will put these two states in the dock if they fail to spend the funds allocated for Bundelkhand region, besides the Centre will also save itself from the obligation of sparing more funds for the region. But amidst this political tussle the ultimate loser will be the Bundelkhand, sources added.
Although proposed Planning Commission's meeting to include Bundelkhand as part of the 12th Five Year Plan was postponed on Friday, the Centre is adamant to go ahead with its plan.
The Congress party is willing to exploit this opportunity to attack the Uttar Pradesh government. The announcement for Bundelkhand package was made in 2009-10 when the region comprising 13 districts was facing a major drought.
Read more..
Courtesy: post.jagran.com