(Report) Suicides and migration in Bundelkhand : Dec 2015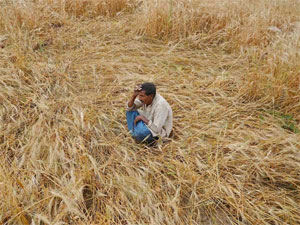 ---
Suicides and migration in Bundelkhand : Dec 2015
---
Moolchand Kumar Prajapati and Jaidevi broke down as they spoke of their son Sunil, 24, who hanged himself last week.
The past year was exceptionally difficult for the Prajapati family, which owns barely 1.5 bighas (about half an acre) of land at Gehra village of Mahoba district in the heart of Bundelkhand. After two successive crop failures, the rabi crop this year looked promising, but a few spells of hailstorm dashed all hopes. Reeling under a debt of Rs. 2 lakh, the fresh stretch of drought, the third year in a row, proved to be the crippling blow for a dispirited Sunil. He left behind his wife and a month-old infant. "He lost his mental balance under this stress," Moolchand says.
As thousands of families in Bundelkhand hit by severe drought, Moolchand's family struggles for survival. They could grow only 25 kg of oilseeds in the season and have to travel 10 km on a broken path to the nearest market to buy basic food items. This is the worst crisis faced by the family, which received just Rs.750 as compensation for damage to crops but have not received a penny as drought relief yet. The Prajapati family's woes typify the agrarian crisis in the Bundelkhand region.
The Samajwadi Party government has declared 50 districts drought-affected. From June to September 30, the State received only 53.5 per cent of the average rainfall. In 33 districts, the figure was between 40-60 per cent, while in 16 districts, rainfall was below 40%. Most of these districts are in Bundelkhand and adjoining regions.
Driving through Banda, Mahoba, Kanpur Dehat, Fatehpur and Chitrakoot districts, one is met with vast swathes of parched agricultural land. Dry crops lie wasted on acres and acres of farmland. For miles, there is little sign of green. Canals and ponds have dried up. Since the terrain is rocky, tube wells are difficult to dig. Officials admit that with sinking groundwater levels, the water crisis will get worse. In the absence of resources, farmers are forced to feed husk to their animals, which are starving to death.
"I have never seen such a poor monsoon. We did not need an umbrella. Even potholes did not get filled," said Ashish Sagar, an environment activist based in Banda. In the district which is at the centre of the crisis, less than 10 per cent of sown land was harvested this season, M. Venkateshwarlu, Divisional Commissioner, says.
Due to the distress, farmers are forced to take loans in the hope that the government would waive their debts. However, they are caught in a debt-trap and are struggling to make ends meet. Though officials cannot confirm if there have been starvation deaths in Bundelkhand in the current season, they admit to reporting an increase in deaths due to sadma (shock).
Suicides and migration
In Padui village in Banda district, on November 27, a farmer, Devi Deen Sahu, died of a "heart attack" while he was in the field. Villagers believe he was in despair because of repeated losses of crop and a Rs. 1.7-lakh debt. Padui has achieved notoriety for farmer suicides over the past decade. The limelight attracted politicians and many relief measures for the region. But little has changed in Padui. Its farmers struggle for a living and locals say over 400 young men have migrated to Gujarat, Madhya Pradesh and New Delhi in search of a living, in the past few years.
Courtesy: The Hindu